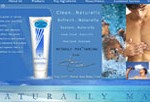 Project: SEO – Link Building
URL: http://www.naturallyman.com
Testimonial:
At first I was concerned about doing business with a company far away in India, sitting here in Texas , USA . Girish (known as G.) certainly demonstrated by example that his firm's capability exceeded other submissions.

But what about communication? G. was extremely responsive and certainly demonstrated that he is here to serve his customers. So I decided to use him. Once he got my contract, IT ONLY GOT BETTER.

Communication has been outstanding. This gentleman never sleeps!! Although India is 12 hours ahead he is available on line during prime US hours and/or will literally meet you at any time. In addition to this, his company's artistic capability is outstanding. He puts in all kinds of extra effort to be helpful.

ALL I CAN SAY IS GO WITH THEM AND YOU WON'T BE DISAPPOINTED.
Stephen K. Noll

President, Naturallyman.com
(Visited 291 times, 1 visits today)